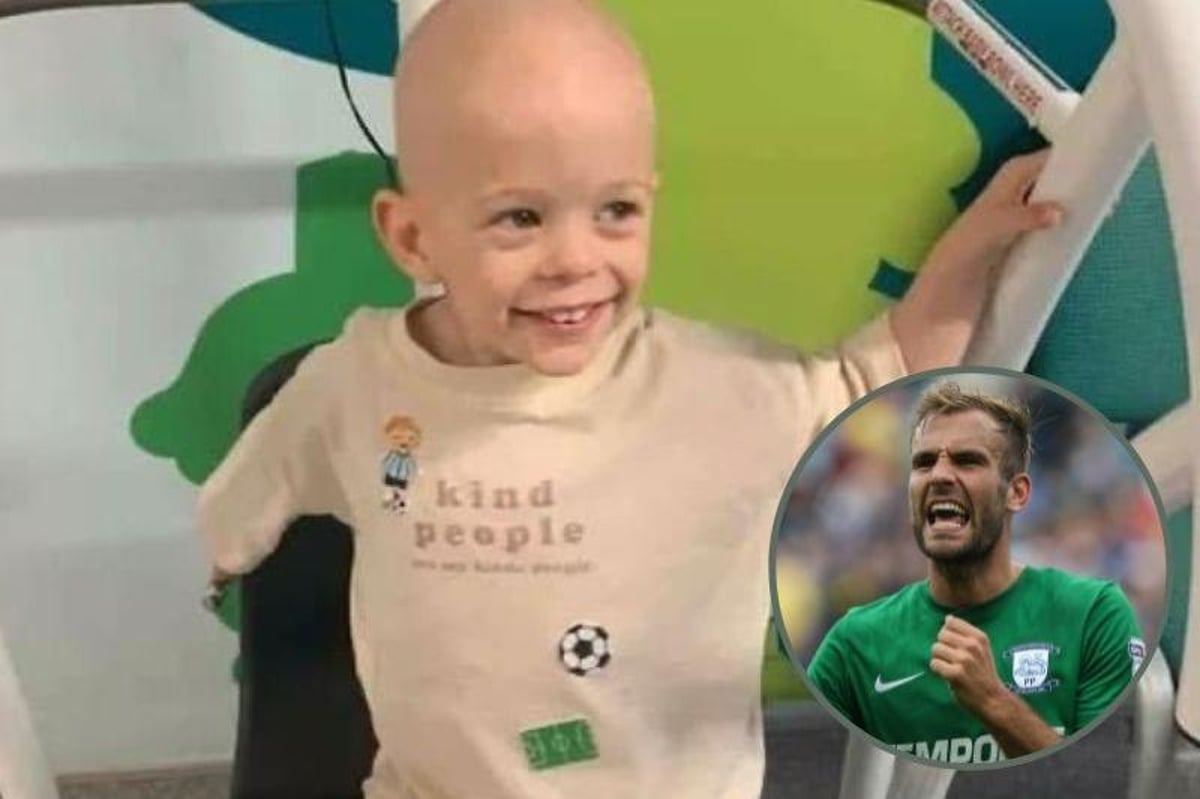 A Chorley man hosts a Clitheroe football game to help former Preston North End and Blackburn Rovers footballer Tommy Spurr whose son has a rare form of stage four kidney cancer
But that's exactly what happened to an Old Langho dad and former Preston North End footballer, Tommy Spurr, and his three-year-old son, Rio, when the toddler was diagnosed with a Wilms tumor in his kidney . Around 80 children are told they have Wilms tumor each year in the UK.
Even if his chemotherapy and radiotherapy are successful, Rio's cancer has a one in two chance of coming back and being incurable on the NHS, meaning his family must raise money for treatment abroad. Now Chorley man Tony Cartwright is supporting the former Blackburn Rovers player and his family by hosting a charity football match on Sunday September 25 at Clitheroe Football Club featuring TV stars and sports legends.
Speaking about his son's devastating diagnosis, Tommy, formerly of Ribchester, said: 'We had gone from thinking it was just a disease virus to finding a lump. Rio had had no signs of cancer, and was fine and attending day care. We thought [the stomach ache] there was nothing to fear.
Tommy Spurr's son Rio, inset, is battling a rare form of cancer
But, the 34-year-old added: "In one week, our world has been turned upside down. It was devastating.
"It's the hardest thing we've ever had to deal with. Everything happened so fast. »
When Rio complained of a stomach ache in April, her parents noticed a lump on the right side of her belly. His GP thought he was constipated or had reacted to an injection he had recently received.
But the toddler was violently ill days later and when his parents took him to A&E, doctors thought he had a twisted gut. He was transferred to Manchester Children's Hospital for surgery but it was soon discovered that Rio had a large lump on one of his kidneys.
Less than a week after having scans, Rio began six weeks of chemotherapy – longer than children normally get. He also underwent surgery to remove the tumor and affected kidney, and will start radiation therapy next month.
"In that space of time, we discovered it had spread to his lungs. It shook us and still shakes us today," Tommy said.
"When you look at the prognosis for a Wilms tumor, it's actually quite good, so we were hoping Rio would recover. But now we're told it's below average, which is scary.
"Everything is out of our hands. We pray that he is one of the lucky ones to make it out. We have no choice but to hope he's special.
Tommy Spurr in action for PNE
Doctors have now advised Tommy and his partner Chloe, Rio's mother, to start raising funds for treatment abroad in case their son's cancer returns in the future.
"It's hard to get rid of him, but there might be a chance in the future and we might have to try something in another country because his type of cancer is so rare," the father said. of two children.
"There's not much there, but we're still trying to find something that will give him a chance. There's a 50% chance he'll come back and if they say there's nothing we can do here, we'll have to collect as much as we can. I don't want to take the risk of leaving him and doing nothing. We would then have lost nine months when we could have done something to help him.
"As a father, I'm not going to take that risk. I want to be ready to give him every opportunity.
The couple, who also have 18-month-old son Rudy, have been unable to work since their eldest was diagnosed due to long hospital visits.
"It's a testament to the strength my wife and I have as a team, lifting each other up," Tommy said.
"It's exhausting trying to be positive as parents when we're really petrified."
But community support, he says, helped raise the family.
"The support has been overwhelming. It means the world to us. I want to thank the people and Tony for involving us in the charity football game."
They also seek inspiration from their son, Rio, who they say can still be seen singing and dancing as usual, bringing smiles to people's faces wherever he goes.
"He's a small artist and people are drawn to him. He dances in the hospital and makes the best of a bad situation. It's a breath of fresh air, which sums it up.
"He's the most amazing little boy, just full of life. He's so loving and caring. To have a three-year-old pat your arm when you go to sleep takes our breath away.
The charity match will feature Emmerdale's James Hooton, Britain's Got Talent alumni Steve Royle and Hollywood stars like Nick Pickard, Jacob Roberts and David Kennedy taking on former Blackburn Rovers and Blackpool FC players. Kick-off is at 2pm, with commentary from Radio Lancashire's Stephen Lowe and a post-match auction.
It will also raise funds for the care of Blackburn Rovers legend Tony Parkes, who suffers from Alzheimer's disease, as well as St Catherine's Hospice at Lostock Hall and Crohn's & Colitis UK.
Visit www.wegottickets.com to reserve a ticket. Admission is £5 per adult, £3 per under 16 and free for under 5s. The child mascot costs £20 and the meet and greet costs £30. Special Tony Parkes shirts are also on sale.