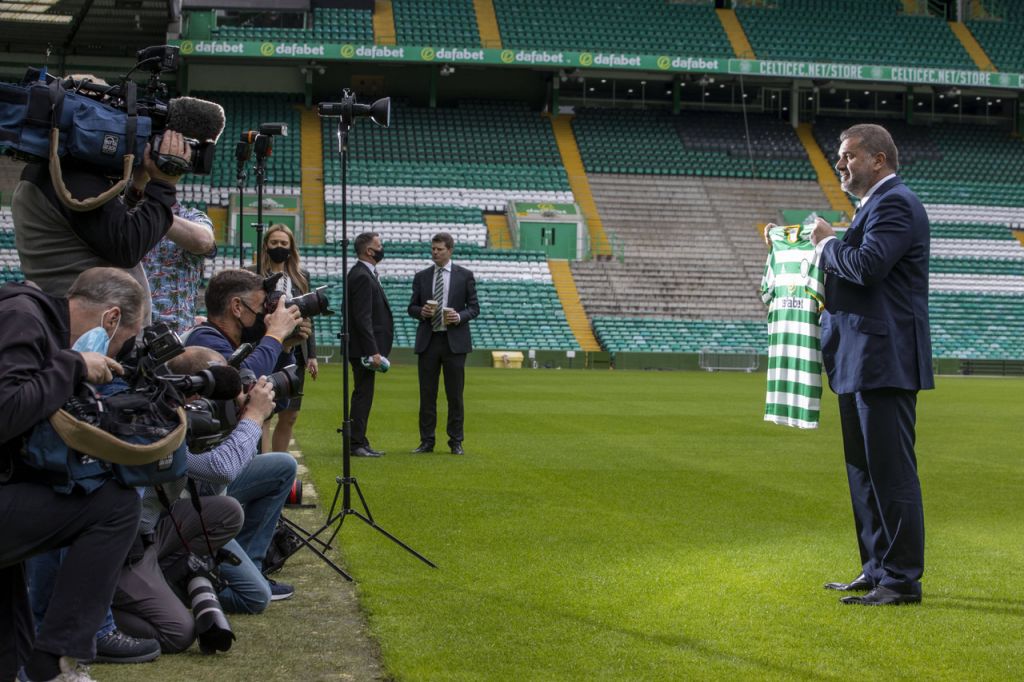 "He galvanized an entire football club and won the hearts of a fan base that had grown disillusioned."
Celtic's sliding door moment clearly came last summer, when, after months of protracted negotiations, Eddie Howe ended his transfer to Celtic and Angel Postecoglou stepped in.
Now Kris Commons writes in his Daily mail Column believes Celtic may have dodged a bullet, after Eddie Howe, after taking over from Newcastle United, lost in the FA Cup 3rd round to Cambridge United an English League 1 side who, before heading to St James' Park, even managed a goal in their last three outings.
"I'm sure there were a lot of Celtic fans chuckling watching the highlights on Saturday night and who can blame them?" The communes have started. "Howe was offered the Celtic post on a plate. The club went out of their way to try to accommodate him and provide him with everything he needed.
"But he pushed it away largely on the basis that the makeup of his back room and scouting team wasn't quite what he wanted. Or, in other words, he bottled it.
We'll never know if Eddie Howe "bottled up" Celtic work or if his own expectations weren't met by Celtic and there was simply an amicable separation, but there was a real sense that 'Eddie Howe chained Celtic, and that's where, shall we say, an element of satisfaction emerges as Howe's new career change already seems to be unraveling.
And the reason for our own satisfaction is, whether by accident or on purpose, Celtic's choice, which would have been on the recommendation of DOF summer target Fergal Harkin, ended up being Angel Postecoglou and Kris Commons believes he did. There are similarities in the jobs of both Angel and Eddie Howe has taken over. "Compare that with the man who finally took the job. Ange Postecoglou went to Celtic without any of his own coaches or backroom staff and picked the club up on his knees.
"There are parallels to be drawn here. Some people will say Howe inherited a club's hopeless case and deserves more time to straighten the bar. They will say the team Bruce left was a mess and in dire need of improvement in almost every department.
"Still, the exact same could be said about Celtic last summer when Postecoglou walked through the door. In fact, I would say Celtic was in even worse shape last summer than Newcastle were when Howe was. took up his post a few months ago.
"But Postecoglou found a way to make it work. He galvanized an entire football club and won the hearts of a disillusioned fan base. "
Commons also makes an interesting point regarding Howe's abilities to deal with high-profile personalities on a training ground rather than enhancing the little lights that work their way into the game. That just might be a weakness in the game. de Howe after all, he took his Bournemouth side through the leagues in England, but it was rare for him to have to deal with the ego that you'll likely see in the Newcastle locker room, nor the demands of winning every week there. possibly faced at Celtic.
"The charge against Howe is that while he may be a gifted coach who can improve lower league players, he struggles to cope with high profile players. He struggles to deal with players. who have played at the highest level. That doesn't mean big Charlie's or egos, but just players who maybe need a little more man management.
"In that regard, he's in a bad job at Newcastle. They seek to bring together a galaxy of football superstars under their new Saudi owners, as long as they aren't relegated first.
"But Celtic fans must now look back on last year's events with a smile. As Howe struggles to make any impact at Newcastle, it looks like they've dodged a bullet. And a very bullet. expensive at that, given the size of the salary package I heard was offered to Howe.
"Look, maybe he would have done well in Glasgow. In the end, we'll never know. But, if he had accepted the post, there would have been neither Kyogo nor Angeball. Right now, if given a choice between Howe and Postecoglou, there isn't a Celtic fan in the country who wouldn't choose Big Ange all day long.
Dealing with strong personalities will only be an ongoing issue for Eddie Howe as Newcastle roll out the checkbook this month, but the big concern, looking back, is whether he'll have time to get his point across and if he's going to face in an environment where your every move is under the microscope and the pressure to win will soon be increased.
Ange Postecoglou seems to have thrived under similar pressure and there can't be many people who would swap our manager for Eddie Howe now, so in that regard maybe Kris Commons is right, maybe the Eddie Howe saga to Celtic was a near miss. . The one we are now thankful for.
Niall J
And for those who missed this one yesterday on The Celtic Star, here's a catch-up chance to check out the photographs given to this site by former Celtic manager Tom Grant of the demolition of former Celtic Park and in its stead. emergence of the New Celtic Park we know and love today. These photographs are fascinating and worth the detour …