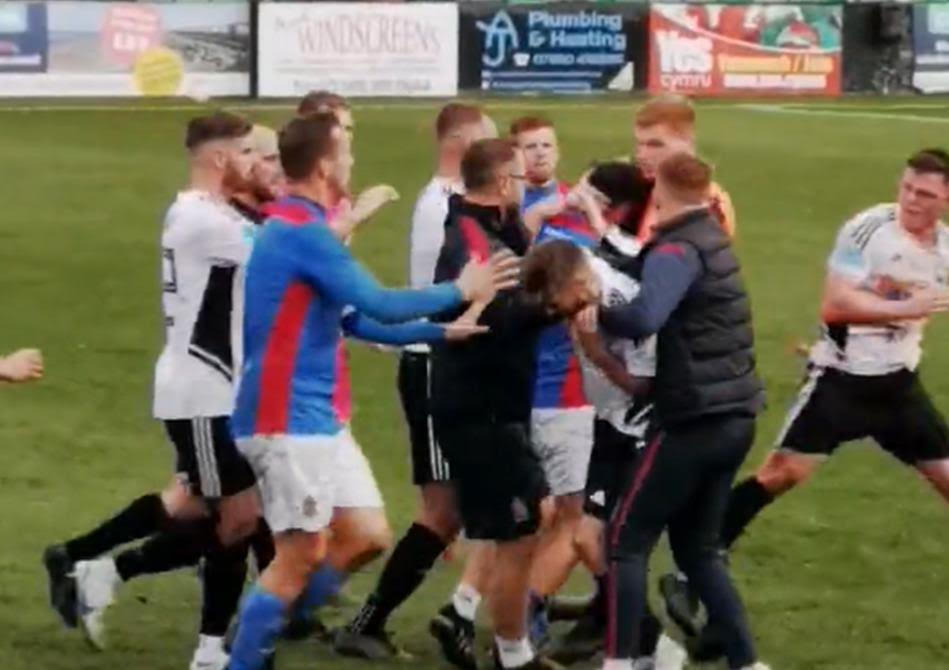 Police provide update after mass brawl at soccer game
FOLLOWING a 'mass fight' that broke out during a football game between Rhyl and Bangor, police have provided an update to the public.
It all started towards the end of the game between CPD Y Rhyl 1879 and CPD Bangor 1876 on Saturday October 22, resulting in five red cards being shown and the start of a Football Association of Wales (FAW) investigation.
Now North Wales Police have provided an update on their investigation into the incident.
Following an incident of disorder in the playing area of ​​a football game between Rhyl 1879 and Bangor 1876 on Saturday October 22, Detective Inspector Kris Williams issued the following statement: "We continue to 'investigate the mess that occurred at the end of Saturday's Football Match between Rhyl 1879 and Bangor 1876.
"'We remain in contact with the Football Association of Wales and representatives of both clubs, and we are taking steps to interview anyone involved and take legal action if necessary.
"One person was interviewed on bail, and we have provided contact information for two other people we wish to speak with about the event."
After the game, Rhyl Club said: "After one of the busiest games in FAW yesterday (October 22), our community club is deeply shocked and saddened by the events on the pitch at the end of the match against our Friends of Bangor 1876.
"We would like to thank the North Wales Police for their support of the game, both groups of supporters, and especially our club volunteers who give their valuable time to make this game and every home game possible.
"We apologize to everyone who experienced the incident and this matter is being handled internally as a matter of urgency.
"We are awaiting the referee's report and will make no further comment at this time."