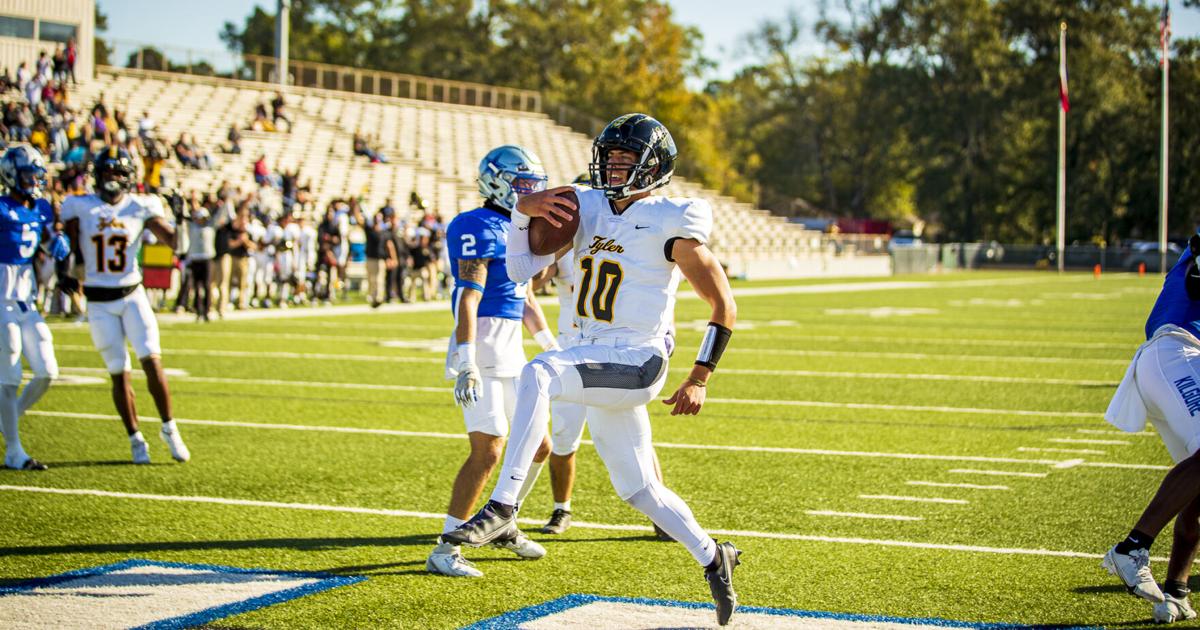 TJC Hosts Spring Football Game at Pat Hartley Field | Sports
TJC football fans can see new football coach Tanner Jacobson on the sidelines Friday as the Apaches' annual Black-Gold game is scheduled for Pat Hartley Field on the campus of Tyler Junior College.
TJC Student Life is hosting a tailgate, starting at 5:30 p.m. There will be free food and Apache Football 2022 signers will be announced along with Apache Football staff.
The football game is due to start at 6:30 p.m.
The Apaches finished second in the Southwest Junior College Football Conference, falling to eventual Military National Champion New Mexico in the league championship game. TJC picked up a 28-7 victory over Coffeyville (Kansas) in the Heart of Texas Bowl in Commerce.
Fans will also be able to see the remarkable quarterback General Booty in action.
Jacobson, 27, comes to TJC after serving two years as an assistant coach at Snow (Utah) College. He helped the Badgers to the national championship game in the spring of 2021 and the national semifinals in the fall of 2021. He succeeds Thomas Rocco who has taken on a new assistant coaching position at Sam Houston State University.
During his career at Southlake Carroll High School, Jacobson served three years as a defensive back and team captain while helping lead the team to a 37-6 record, including two district titles and a 16-0 state championship in 2011. He was named All-District 4-5A Most Valuable Defensive Player, Texas Sports Writers Association Class 5A Third Team, AP All-State Honorable Mention , Dallas Morning News All-Area Second Team, Fort Worth Star-Telegram Super Team, First Down Club 2012 Defensive Player of the Year Finalist and Whataburger All-North Texas First Team.
After high school, he played at Texas Tech, appearing in 13 games and being named to the ESPN Big 12 All-Bowl Team. He helped the Red Raiders go 8-5, including a 37-23 win over Arizona State in the Holiday Bowl in San Diego. Jacobson had seven solo tackles against the Sun Devils.
After a year in Lubbock and a two-year service assignment, Jacobson decided to transfer to BYU. There he appeared in 37 games over three seasons for the Cougars, totaling 62 tackles with one interception. He served as a punt returner.
After majoring in business and graduating from Brigham Young University, he began his coaching career at the school in Provo, Utah.